If you are new to Android and want to try out each and every feature of Android available on screen including the options available on screen that irritates you sometimes. These tips and tricks are very useful to you.
In this post, we are sharing the 10 important tips and tricks that can improve your experience while using Android device. The steps may vary according to the Android device depending on the OS but if you play with it, you will get to know about the facts very quickly.
1. Disable Animations
In order to make your Android Device run smoother, you can disable animations. Go to Settings or About Device option. Then click on Developer options. In some phones you can go into Build Number and click on it again and again until you receive a message that You are now a developer!. Now developer options are enable and under enable Developer options. Disable them one by one.
2. Disable Mobile Data
Disabling your mobile data will help you save your battery life from draining quickly. You can easily turn off your mobile data by going in settings then click on Data usage. Disable Mobile Data by simply switch it on from off.
How to Turn Off Auto-Correction
How your phone behave like a teacher on you for auto-correction when you are texting. You want to turn off this auto-correction mode.
Settings -> Language and Inputs
Tap on the settings icon that you are using
Look on Auto correction and click on it.
Select turn-off to off the Auto-correction mode.
Disable automatic App Updates
Open Play Store and head over to Settings.
Tap on Auto-update apps.
Choose Do not auto-update apps.
How To Check For android System updates
Go to Settings > About phone/tablet.
Tap on System updates.
Tap Check now to look for system updates.
Changing Default Apps
Go to Settings > Apps.
Swipe right and look for the All tab.
Select the app you want to remove as default.
Tap on Clear defaults.
Set Mobile Data Limit
Head over to Settings > Data Usage.
Set your data limit by dragging the orange line to reflect your monthly quota.
Set your data usage cycle based on when your "month" starts and ends, and you're done.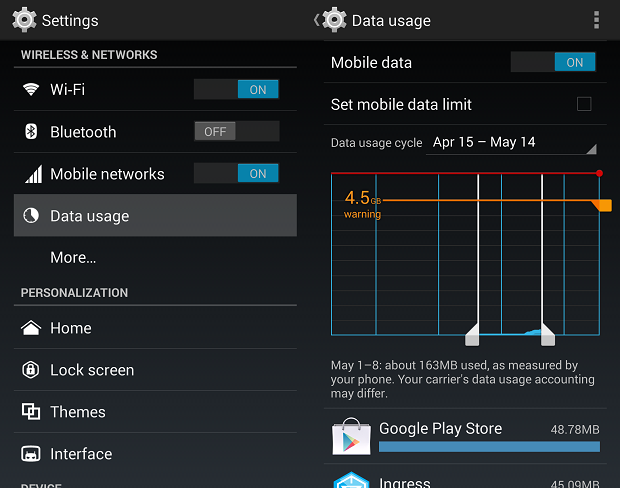 Disable App Notifications
On any of your unwanted notifications in your notification bar, long presson the notification for a message box to appear.
Tap on App Info > Untick Show Notifications > OK.
Add multiple Google Accounts
Go to Settings > Add account.
Select Google and setup your New or Existing Google account.
Once added, choose what you want to sync with the account.
You can more accounts by following the same steps.
Organize Home screen Shortcuts With Folders
Assuming you have more than a handful of shortcuts already on your homescreen, long press on any of the shortcuts and drag it onto another shortcut.
A circle should now appear around the apps, indicating that a folder has been created.
By tapping on the newly created folder, a mini window will pop up with your apps in it.
You can drag and drop additional apps into the folder if you like. You can also rename the folder by tapping on the text area at the bottom of the mini window.
Hope you have enjoyed checking 10 Useful Android Tips and Tricks for your smartphone, if you have anything to add please mention in comments!